15 Free Online Marketing Tools

: Unleash Your Marketing Potential

In this post, we will explore 15 free online marketing tools that every marketer should have in their toolkit. In the ever-evolving landscape of digital marketing, businesses, both large and small, are continually seeking innovative and cost-effective ways to boost their online presence.

Fortunately, the digital realm offers a treasure trove of free online marketing tools that can help marketers achieve their goals without breaking the bank. These free online marketing tools are essential for devising strategies, monitoring performance, and ensuring a brand's online success.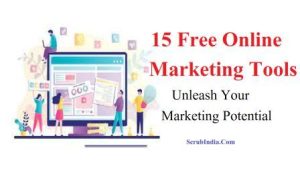 let's know
15 Free Online Marketing Tools
Google Analytics: Your Ultimate Data Hub
Google Analytics is the backbone of any digital marketing strategy. It offers a comprehensive overview of your website's performance, including user behavior, traffic sources, and conversion rates. By leveraging this free online marketing tool, you can fine-tune your strategies to cater to your target audience effectively.
Google Search Console: Uncover SEO Insights
Google Search Console is a powerful tool for tracking your website's performance in search engine results. It provides valuable insights into keywords driving traffic to your site and helps you identify and fix technical issues. Utilizing Google Search Console is a crucial step in optimizing your website for search engines.
Google Keyword Planner: Discover High-Performing Keywords
Keyword research is fundamental to a successful SEO strategy. Google Keyword Planner assists in finding relevant and high-performing keywords. It enables marketers to understand user intent and tailor their content accordingly, making it a must-have among free online marketing tools.
Google My Business: Local Marketing Made Easy
If you have a local business, Google My Business is a game-changer. This tool allows you to manage your business's online presence on Google Search and Maps. It is essential for increasing your visibility in local search results, which can significantly impact foot traffic and sales.
MailChimp: Email Marketing Simplified
Email marketing remains one of the most effective channels for nurturing leads and engaging with your audience. MailChimp offers a free plan for up to 2,000 subscribers, making it a valuable tool for crafting and sending email campaigns with ease.
Canva: Design Like a Pro
Visual content is vital in digital marketing. Canva, a versatile graphic design tool, allows you to create stunning visuals for social media, blog posts, and other marketing materials. With its user-friendly interface, Canva makes design accessible to everyone.
Hootsuite: Streamline Social Media Management
Social media plays a pivotal role in modern marketing. Hootsuite is a free online marketing tool that simplifies social media management. It allows you to schedule posts, monitor mentions, and engage with your audience across multiple platforms seamlessly.
Buffer: Social Media Scheduling at its Best
Buffer is another robust social media management tool that offers a free plan. It helps you schedule posts in advance, analyze their performance, and optimize your social media strategy.
Trello: Organize Your Content Calendar
Trello is a project management tool that can be adapted for content planning and organization. It allows you to create boards and cards to manage your content calendar, making it easier to keep track of deadlines and stay organized.
HubSpot CRM: Customer Relationship Management Simplified
HubSpot CRM is an excellent choice for small businesses looking to manage their customer relationships effectively. It offers features for contact management, email marketing, and sales pipeline tracking, all for free.
Yoast SEO: Optimize Your WordPress Website
If your website is built on WordPress, Yoast SEO is a game-changing plugin. It provides real-time guidance on optimizing your content for search engines, making on-page SEO a breeze.
Buzzsumo: Discover Trending Content
Buzzsumo is a content research tool that helps you identify trending topics and content that resonate with your target audience. It's invaluable for creating shareable and engaging content.
Google Trends: Stay Ahead of the Curve
Google Trends is a tool that enables you to stay up to date with the latest search trends. It's a valuable resource for content creators and marketers looking to create timely and relevant content.
SurveyMonkey: Get Valuable Customer Feedback
SurveyMonkey is a powerful tool for collecting customer feedback and conducting market research. It can help you gain insights into your audience's preferences and expectations.
AnswerThePublic: Uncover Customer Questions
AnswerThePublic is a unique tool that provides insights into the questions and concerns your audience has. By addressing these questions in your content, you can improve your website's relevance and authority.
Conclusion
In the digital age, marketing has evolved significantly, and it's essential to keep up with the latest trends and tools. The 15 free online marketing tools discussed in this post are the keys to unlocking your online marketing potential. From analytics and SEO to social media and content creation, these tools offer an array of features that can help you build a robust online presence without straining your budget.
By incorporating these free online marketing tools into your strategy, you'll be well on your way to achieving digital marketing success. So, don't hesitate to explore and leverage these tools to enhance your marketing efforts and propel your business to new heights.
Friends, you have just read the post "15 Free Online Marketing Tools: Unleash Your Marketing Potential  " we hope you will like this post.
If yes then share it with your friends and keep visiting our website for reading more such posts.
If you interested to read about Astrology & Hindu Religion : Click here 
……………………………
Technological Tips
Also Read : Facebook Creator Studio Monetization: Making Money with Your Content Strategies for Success in 2023
Also Read : Activities to Keep Brain Sharp: 8 Proven Methods for Cognitive Fitness
Also Read : What is YouTube TV Family Sharing? it's Setting up , benefits , limitations, management with 4 important Troubleshooting methods
Also Read : Creating a Google Business Account: 10 Easy Steps to Get Started
Also Read : Exploring the Power of Computer Vision in AI: A Comprehensive Overview 2023
Also Read : Unveiling the 15 Best AI Writing Tools: Revolutionizing Content Creation
Health & Wellness
Also Read : Heavy Periods after Pregnancy: Causes, Symptoms, and Management are explained in detail
Also Read : Depression and Libido:Understanding the Impact of the Connection Between-5 complex links
Travel India 
Also Read : Swaminarayan Akshardham Temple New Delhi- A Complete A to Z Tour Guide
you are reading *15 Free Online Marketing Tools: Unleash Your Marketing Potential*