How to get Freelance Writing Jobs for Beginners-5 ways to avoid scams
This post aims to shed light on the world of freelance writing jobs for beginners, providing insights, tips, and resources to help them embark on this exciting journey.
In today's digital age, the demand for quality content is ever-growing, and as a result, freelance writing has emerged as a viable career option. Many individuals, including beginners, are now venturing into the world of freelance writing to pursue their passion for writing and make a decent income.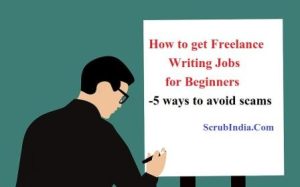 What are Freelance Writing Jobs for Beginners?
Freelance writing jobs for beginners are opportunities that allow individuals to write content for clients on a freelance basis. These jobs encompass a wide range of writing genres, such as blog posts, posts, product descriptions, social media content, and more.
Unlike traditional employment, freelance writing offers flexibility, allowing beginners to work from home or anywhere they choose, while also managing their own schedules.
The Benefits of Freelance Writing for Beginners
Before delving into the specifics of finding freelance writing jobs for beginners, let's explore some of the benefits of this career path:
a. Flexibility:
Freelance writers have the freedom to set their own working hours and choose the projects they want to work on.
b. Variety:
Freelance writers often get the opportunity to write about diverse topics, making it a stimulating and intellectually enriching career.
c. Income Potential:
While income varies depending on experience and skill, freelance writing can be a lucrative endeavor for beginners as they gain more experience.
d. Portfolio Building:
Freelance writing allows beginners to build a portfolio of published work, which can be used to attract higher-paying clients in the future.
Skills Required for Freelance Writing Jobs
To succeed in the world of freelance writing, beginners should develop and hone certain skills:
a. Writing Skills:
Strong writing skills are paramount. Beginners should be able to write grammatically correct, engaging, and informative content.
b. Research Skills:
Freelance writers often need to conduct research to create well-informed posts.
c. Time Management:
Meeting deadlines is crucial in the freelance world. Effective time management skills are a must.
d. Communication:
Good communication skills are necessary for understanding client requirements and clarifying any doubts.
e. Adaptability:
Being open to different writing styles and topics is essential for versatility in the freelance writing market.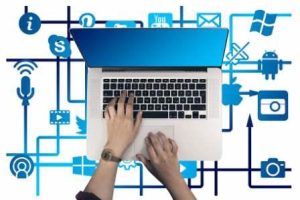 Where to Find Freelance Writing Jobs for Beginners
Now that we've discussed the essential skills, it's time to explore where beginners can find freelance writing opportunities:
a. Freelance Job Boards:
Numerous job boards like Upwork, Freelancer, and Fiverr are excellent platforms to discover freelance writing jobs for beginners. These websites connect clients with freelance writers, making it easier to find work.
b. Content Mills:
While content mills may offer lower rates, they can be a good starting point for beginners to gain experience and build their portfolio. Websites like Textbroker and iWriter fall into this category.
c. Freelance Writing Websites:
Specialized freelance writing websites like ProBlogger, Freelance Writing Gigs, and BloggingPro feature job listings for freelance writers.
d. Personal Network:
Leveraging your personal and professional network can also lead to freelance writing opportunities. Let friends, family, and colleagues know that you are offering your writing services.
e. Guest Blogging:
Writing guest posts for established blogs and websites can help beginners showcase their skills and gain exposure in the industry.
Pitching Clients as a Beginner
Pitching is a crucial skill for freelance writers, especially beginners. To effectively pitch clients and win jobs, follow these steps:
a. Research the Client:
Understand the client's business, target audience, and content needs. Personalize your pitch to show that you've done your homework.
b. Craft a Compelling Pitch:
Write a concise, well-crafted pitch that highlights your skills and explains how you can add value to the client's project.
c. Showcase Your Portfolio:
Attach relevant samples from your portfolio to demonstrate your writing abilities.
d. Set a Competitive Rate:
As a beginner, consider setting competitive rates to attract clients. Over time, you can increase your fees as you gain more experience.
e. Follow Up:
Don't be discouraged by rejection. Follow up with potential clients and inquire about the status of your pitch. Persistence can pay off.
Avoiding Freelance Writing Scams
While there are legitimate opportunities, the freelance writing industry also has its share of scams. As a beginner, it's crucial to be cautious and watch out for red flags. Here are some tips to avoid falling victim to scams:
a. Research Clients:
Before accepting any job, research the client or company to ensure they are reputable. Look for reviews and feedback from other freelancers.
b. Never Pay to Work:
Legitimate clients should not ask you to pay upfront fees or purchase software or materials to start a job.
c. Avoid Unrealistic Promises:
Be wary of clients who promise exorbitant pay for minimal work. If it sounds too good to be true, it probably is.
d. Trust Your Instincts:
If something feels off or suspicious about a job offer, trust your instincts and proceed with caution.
e. Use Secure Payment Methods:
Insist on using secure payment methods such as PayPal to receive payments for your work.
Building a Successful Freelance Writing Career
As beginners gain experience and confidence, they can take steps to build a successful freelance writing career:
a. Diversify Skills:
Expand your writing skills by exploring different niches and writing styles. The more versatile you are, the more opportunities you'll have.
b. Build a Strong Portfolio:
Continuously update your portfolio with your best work to showcase your growth and expertise.
c. Network:
Connect with other freelance writers and professionals in your chosen niche to learn from their experiences and potentially discover new opportunities.
d. Consider Niche Specialization:
Specializing in a particular niche, such as technology, health, or finance, can open doors to higher-paying gigs.
e. Set Clear Goals:
Define your long-term and short-term goals for your freelance writing career. Having a clear vision can help you stay motivated and focused.
Conclusion
Freelance writing jobs for beginners offer a flexible and rewarding career path for those with a passion for writing. While it may take time to establish yourself and build a steady stream of clients, with the right skills, strategies, and perseverance, freelance writing can become a lucrative and fulfilling profession.
Remember, finding success in the world of freelance writing is about continuous learning, adapting to the ever-changing industry, and honing your craft.
So, if you're a beginner aspiring to kickstart your freelance writing journey, start by researching potential clients, crafting compelling pitches, and steadily building your portfolio. With dedication and the right approach, you can turn your passion for writing into a thriving career in freelance writing jobs for beginners.
Friends, you have just read the post " How to get Freelance Writing Jobs for Beginners-5 ways to avoid scams " we hope you will like this post.
If yes then share it with your friends and keep visiting our website for reading more such posts.
If you interested to read about Astrology & Hindu Religion : Click here 
……………………………
Technological Tips
Also Read : What is a Full Stack Developer? Roles and Responsibilities,Their importance & Skills required
Also Read : How to Start a Podcast on Spotify: A Comprehensive Guide with Easy 7 Steps
Also Read : Get YouTube Success with 6 Important Benefits with TubeBuddy for YouTube
Also Read : Mastеring E-commеrcе Insights: WooCommеrcе Googlе Analytics Intеgration-4 Correct Sеtting Up Process
Also Read : Do you also think "How Can I Makе Monеy by Blogging" ? : A Comprеhеnsivе Guidе with 5 Useful method
Also Read : Free Long Tail Keyword Generator: Your Shortcut to High-Ranking Content
Also Read : Artificial Intelligence in Education(AIEd): A Comprehensive Guide with Benefits and Applications in 2023
Health & Wellness
Also Read : Heavy Periods after Pregnancy: Causes, Symptoms, and Management are explained in detail
Also Read : Depression and Libido:Understanding the Impact of the Connection Between-5 complex links
Travel India 
Also Read : Swaminarayan Akshardham Temple New Delhi- A Complete A to Z Tour Guide
Also Read : Swaminarayan Akshardham Temple New Delhi- A Complete A to Z Tour Guide
*you were reading Get YouTube Success with 6 Important Benefits with TubeBuddy for YouTube *